Cooperations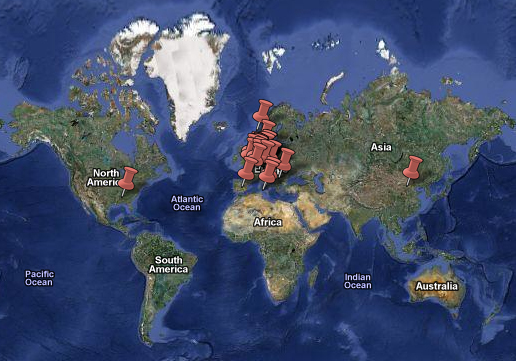 Giuseppe Alì
Dipartimento di Matematica, Universitá della Calabria and INFN-Gruppo c. Cosenza, Italy.
X. Antoine
Institut Elie Cartan Nancy (IECN), Université Henri Poincaré Nancy 1, France.
Martin Arnold
Martin-Luther-Universität Halle-Wittenberg, Germany.
C. Besse
Université des Sciences et Technologies de Lille, France.
L. Bordag
Halmstad University, Sweden.
Tanja Clees
Fraunhofer Institut für Algorithmen und Wissenschaftliches Rechnen SCAI, Germany.
Markus Clemens
Theoretische Elektrotechnik, Bergische Universität Wuppertal, Germany.
Herbert De Gersem
Katholieke Universiteit Leuven, Belgium.
Georg Denk
Emira Dautbegovic
Infineon, München, Germany.
L. Jódar
Instituto de Matemática Multidisciplinar, Universidad Politécnica de Valencia, Valencia. Spain.
Ansgar Jüngel
Institute for Analysis and Scientific Computing, TU Wien, Austria.
Francesco Knechtli
Theoretische Teilchenphysik, Bergische Universität Wuppertal.
Th. Koprucki
Weierstrass Institute for Applied Analysis and Stochastics, Berlin.
Anne Kværnø
Norwegian University of Science and Technology, Trondheim.
R.E. Mickens
Clark Atlanta University, USA.
Vittorio Romano
Università degli studi di Catania, Italy.
Dang Quang A
Department of Mathematical Methods for Information Technology
Institute of Information Technology, Hanoi, Vietnam
A. Schädle
Heinrich-Heine-Universität Düsseldorf.
Wil Schilders
TU Eindhoven, the Netherland.
F. Schmidt
Konrad-Zuse-Zentrum für Informationstechnik Berlin.
D. Ševčovič
Department of Applied Mathematics and Statistics, Division of Applied Mathematics, Comenius University, Bratislava, Slovakia.
Imbo Sim
Mathematics Institute of Computational Science and Engineering, EPFL, Lausanne, Switzerland.
Bernd Simeon
TU Kaiserslautern, Germany.
J. Szeftel
Département de Mathématiques et Applications Ecole Normale Supérieure, Paris, France.
Caren Tischendorf
University of Cologne, Germany.
L.G. Vulkov
University of Rousse, Bulgaria.
C. Zheng
Department of Applied Mathematics, Tsinghua University, Beijing, China.